RF & Microwave

Capacitors
RF & Microwave SLC
Thin Film Ultra Tight Tolerance
Film
High Q
Broadband DC Blocks
Inductors
Accu-L Thin film Ultra Tight Tolerance
Thin Film Ultra Tight Tolerance
High Q
Air Coil
Multi-Layer Organic
Diplexers
Triplexers
Filters
Amplifiers, Filters, Antennas & Antenna Assemblies
Active RF Components
Mixers
Switches
Limiters
Attenuators
Temp-compensated Detectors
Pin Diode Drivers
A/D & D/A Converters
Op Amps
Passive RF Components
Phase Shifters
Rotary Joints
Power Dividers
High Power Couplers
Frequency
Synthesizers
VCOs
SAW Oscillators
FMOs
MROs
PLOs
DTOs
DROs & CROs
Frequency Multipliers
Active Antenna Array Solutions
Subsystems
Antennas
Fiber Optics
Connectors
RF Cable Assembly
Up to 5GHZ WLAN/Broadband LNAs, Drivers & Gain Block MMICs.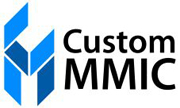 Custom MMIC offer solutions from DC-45 GHz, Products range from Amplifier (LNAs, Wideband Distributed, Power Amps, and Drivers), Mixers, Phase Shifters, Switches, Attenuators, Multipliers, and Multi-function MMICs.
Taconic Advanced Dielectric Division manufactures PTFE/woven glass base materials for high speed applications.